Local artists take flight.
Not all airports have the views Sioux Falls Regional Airport does. (And we're not just talking about outside the aircraft windows.) FSD Galerie features the results of partnerships with dozens of the area's most talented artists, adorning the walls of the concourse and terminal. It's the perfect opportunity to acquaint yourself with what makes Sioux Falls an incredible destination—using compelling and beautiful visual arts as your entry point.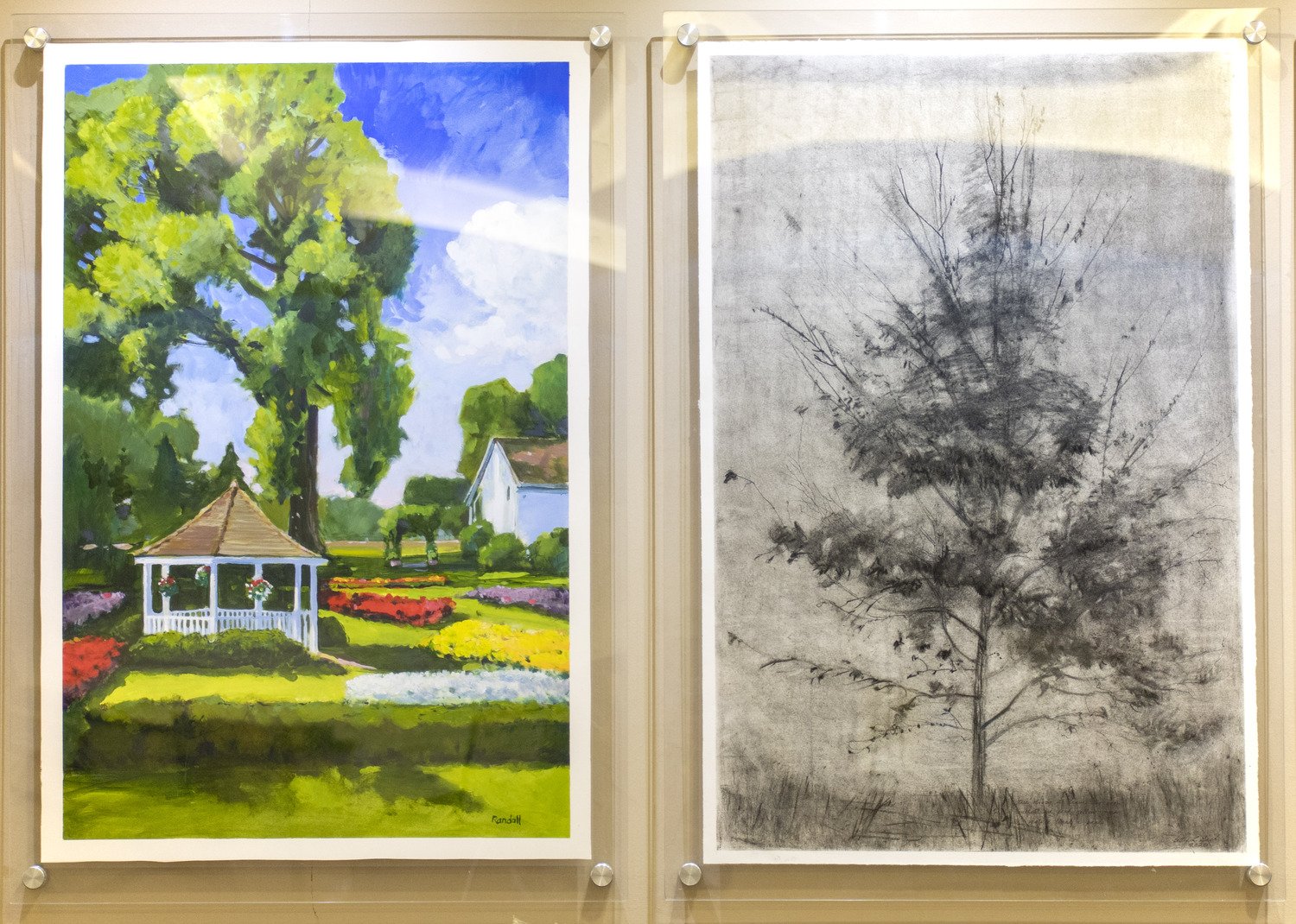 The South Dakota Artists Alliance have taken this year's exhibit theme, "In Our Towns," and created a stunning display of the buildings, streets, people and landscapes that make up Eastern South Dakota. With 13 participating artists, the alliance, a nonprofit formed to provide support for artists and their communities, additionally offers educational and exhibition opportunities.
MIKE HEINRICH


Dakota Flight Path

Heinrich created the 60-foot-long wall relief as a celebration of flight and the expansive South Dakota landscape. With the recognition that the TSA line can be a stressful place, he hopes his art will put a smile on travelers' faces as the metal airplanes point them toward their destination.

MICHAEL SWEERE


Between the Clouds

"Between Clouds, is inspired by the view from a window seat. Rising through clouds, the view of the earth looks majestic and organized - like an infinite jigsaw puzzle," says Sweere. is constructed from recycled and salvaged objects that are patchworked together to create a unified work of art.
TJ MOBERG


Dried Sunset

Viewed from afar, Moberg's work pays homage to the power of the uninterrupted and boldly colored skyline at sunset, a distinctive feature of our Midwestern vistas. When approached, the work reveals itself as a collage of dried paint molded around contemporary objects, highlighting the importance of finding beauty within things that may be fleeting.
SCOTT PARSONS


Flights of Fancy

Parsons designed and created Flights of Fancy in collaboration with renowned mosaic fabricator, Mosaika, of Montreal, Canada. "My thought was to reflect upon what an airport does within this artwork, what people might be thinking about, and suggest some relationships so these mosaics can help make this a memorable journey," states Parsons.
DAVID ROSE


Dakota Sunrise Fantasy

Rose applied software processes to a photograph of a glorious sunrise to reveal aspects of that photo not found in the original. By modifying the colors and shapes in the photo, Rose intends for the resulting image be reconstructed by viewers and appreciated it in a new way.


EYOB MERGIA


The Heartbeat of the Buffalo

Mergia says this piece is "inspired by the migration of the buffalo that travel parallel with seasonal changes, moving toward greener pastures. Through this painting, I wish to express that we are all part of migrant communities that are constantly traveling in search of positive life experiences."
JANE LAUREN


We-Wicasa

Lauren is a contemporary artist whose paintings take a playful and explorative approach to color and texture. The resulting works are impressionistic and lyrical. This painting highlights the natural beauty of South Dakota's newest state park and an important historical and cultural site, Good Earth State Park.

MARY GROTH


The Sound of Wings

This series of panels function as a narrative, beginning and ending with an expression of the power of childhood imaginations. The middle panels depict representations of the physics of flight, contemporary flight paths and seasonal migratory flight patterns, as well as heroes who break barriers and forge paths.
CECA COOPER


Silent City: Gentian and Mounds of Blood Run

Blood Run was once a great mound city, important trade site, and served as a settlement for thousands of Native Americans. It is considered one of the oldest sites of longterm human habitation in the United States. Cooper says, "As an artist, I am especially intrigued by the diversity and beauty of this area, Blood Run, in particular."