Frequently Asked Questions
Covid-19 Health and Safety Procedures and Measures
All Airlines require them to be worn either while on-board or through-out the travel process.

Face coverings are required by all who enter the terminal building including travelers, employees and the general public. All airport/airline employees required to wear masks.
Airport disinfects all seating, counter tops, doors and frequent touch points several times/day.

Touchless water faucets and hand towel dispensers available in all restrooms.

Airlines have enhanced aircraft cleaning procedures including disinfecting all seating and tray tables prior to departure.
All security screening tubs disinfected on a regular basis.

Touchless identification inspection.

All screeners wearing face coverings and gloves.

Hand sanitizer bottles up to 12 oz. are permitted through the checkpoint.
General FSD FAQs
Sioux Falls Regional Airport business hours are 8am - 5pm Monday - Friday.
The Sioux Falls Regional Airport Terminal building opens at 3:30 a.m. and closes after the last flight arrives at midnight.
Airlines recommend checking in an hour and a half prior to your departure time.
There is no one location to check for employment opportunities at the airport. Tenants in the building advertise themselves (airlines, security, car rentals, gift shop, food service, etc.)
There are NO local phone numbers for the airlines and they do not take calls here.
If you lose or leave behind an item:
At security - call 605-330-2523. (This number is only staffed during checkpoint hours)
On the airplane - contact the airline you were flying with - this includes lost luggage.
In the terminal building - email

airport@sfairport.com

or call 605-336-0762 ext 100.
We're Listening!
For parking questions contact SP+ Parking at 605-336-8154 or email fsdparking@spplus.com
Our top priority is to provide our customers with unparalleled customer service and an enjoyable FSD experience.

Visit www.howdowerate.us/fsd to take our quick, 5 minute survey, and let us know how we're doing!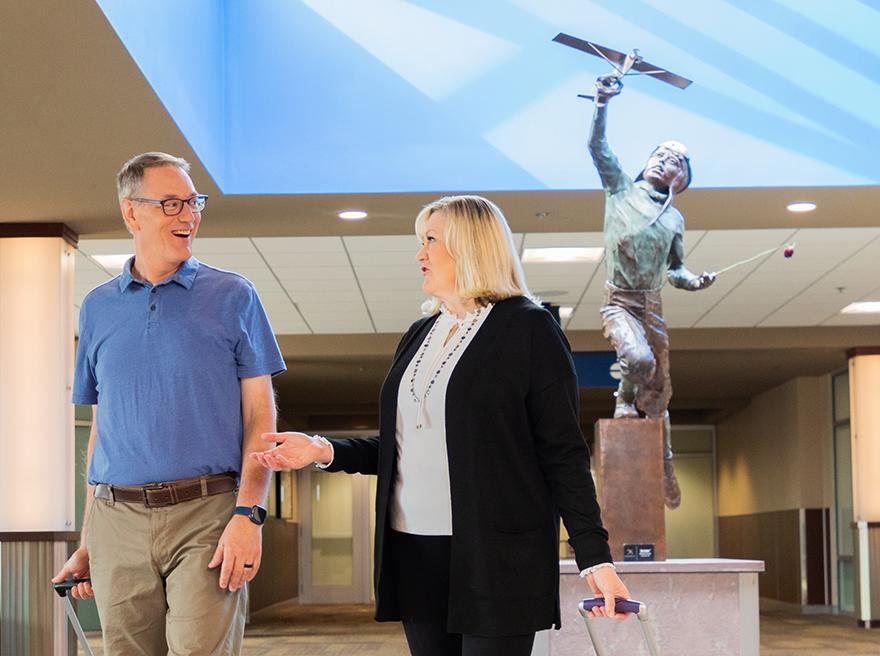 New Direct Flights
More places. More adventures.
There are now more options than ever to go on an adventure just one flight away from Sioux Falls. Whether it's new Allegiant direct flights to Ft. Lauderdale, Fla.; Austin, TX; and Orange County, Calif., or new Frontier direct flights to Orlando, Fla., and Las Vegas, Nev., you're that much closer to your destination at FSD.
Explore Direct Destinations