The Sioux Falls Regional Airport (FSD) is also known as Joe Foss Field, honoring Brig. Gen. Joseph J. Foss, a former WWII ace pilot, Governor, and founder of the South Dakota Air National Guard (SDANG). The largest airport in South Dakota, it serves SE South Dakota, SW Minnesota, and NW Iowa with scheduled passenger service, overnight cargo, complete general aviation services and a U.S. Customs Port of Entry.
Established in 1937 as a civil airport, it was leased from the City of Sioux Falls by the U.S. government in 1942, establishing the Sioux Falls Army Base. The base was predominantly used as a technical training school for radio operators, its grid of streets now making up an industrial park.
The United States Corp of Engineers developed the current triangular 3-runway system from 1942–47. After WWII, the airport returned to the city with a south portion leased to the newly formed SDANG. South Dakota's 114th Fighter Group nicknamed "Lobos" is today stationed here.
The Air National Guard Base portion has all the standard facilities of any small USAF (wiki) installation except family housing. The 114th's F-16C (wiki) and F-16 "Fighting Falcon" F-16D (wiki) aircraft are a frequent sight over the Sioux Falls area.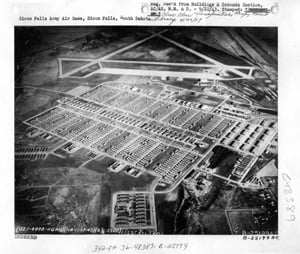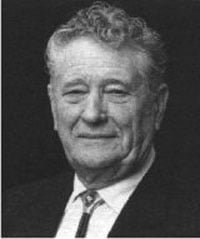 The City of Sioux Falls has proudly named this outstanding regional airport "Joe Foss Field".
Born April 17, 1915 on a family farm northeast of Sioux Falls, Joseph Jacob Foss was the oldest son of Olouse and Mary Lacey Foss. Joe grew strong and tough, enduring farm life and hunting on this prairie land.
Joe's life changed forever when, in 1931, his father treated him to his first airplane ride over Sioux Falls with South Dakota's pioneer aviator Clyde Ice, who was selling rides for $1.50.
Life took a hard turn during the Depression as Joe managed high school, college and the family farm following the accidental death of his father in 1933.
Throughout it all, he dreamt of becoming a pilot. In 1938 Roy Lanning taught Joe to fly at the Sioux Skyway Airfield in Sioux Falls.
He enlisted in the South Dakota National Guard in October 1939. Already a skilled pilot upon entering the United States Marine Corps Pilot Training Program after college graduation in 1940, he was considered an "old man" by military standards.
Joe had to fight for the opportunity to serve his nation as a fighter pilot.
He taught flying through most of 1941, finally reaching the Pacific Theater in September 1942 flying the F4F "Wildcat" (wiki) for the USMC. Captain Foss began making military aviation history when, flying from Henderson Field on Guadalcanal, he claimed his first enemy aircraft kill on October 13, 1942.
Joe became an "Ace" in his first week of combat, downing five "Zeroes" in 1 day on October 25, 1942. Suffering from malaria, he recuperated in an Australian hospital until January, 1943, when he returned to flying duty and downed three more "Zeroes" on January 15. Joe was credited with 26 enemy aircraft kills, equaling the WWI record of Eddie Rickenbacker.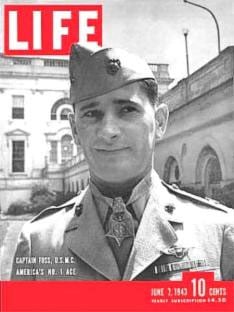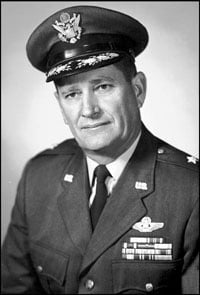 Captain Joseph J. Foss was acclaimed as America's "Ace of Aces" with President Franklin D. Roosevelt presenting the Medal of Honor to Joe in a White House ceremony on May 18, 1943.
Released from active duty, he returned home with 1 aircraft that quickly grew to a fleet of 14. In 1946 Joe became a Lieutenant Colonel in the United States Air Force Reserve, organizing the South Dakota Air National Guard (SDANG). He was the unit's first Commander until 1952, after which he went on to serve the SDANG, and being promoted to Brigadier General in 1953.
Joe turned actively to politics becoming elected to the South Dakota State Legislature. He served two terms as Governor from 1955 to 1959.
Joe approached a civilian career with the same vigor that highlighted his military career. He served as Commissioner of the American Football League, a valued leader of Campus Crusade for Christ, and President of the National Rifle Association among other passions. Throughout, he continued his boyhood love of hunting, hosting "The American Sportsman" television series on ABC-TV.
Joe Foss passed away at the age of 87 years on January 1, 2003.
75 Years
Fly Through the Years with FSD – A Celebration 75 Years in the Making
September 2014 marked the 75th anniversary of the Sioux Falls Regional Airport. Over those years, FSD has been a staple of the community and region.

When the Sioux Falls Municipal Airport opened on September 15, 1939, it was a milestone event in the city's history. At the time, air officials sad the new 500-thousand dollar facility was one of the best in the country.

From airmail service and the SD Air National Guard, to naming the airfield after Joe Foss and creation of the Airport Authority, the history of FSD is rich.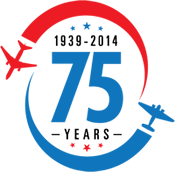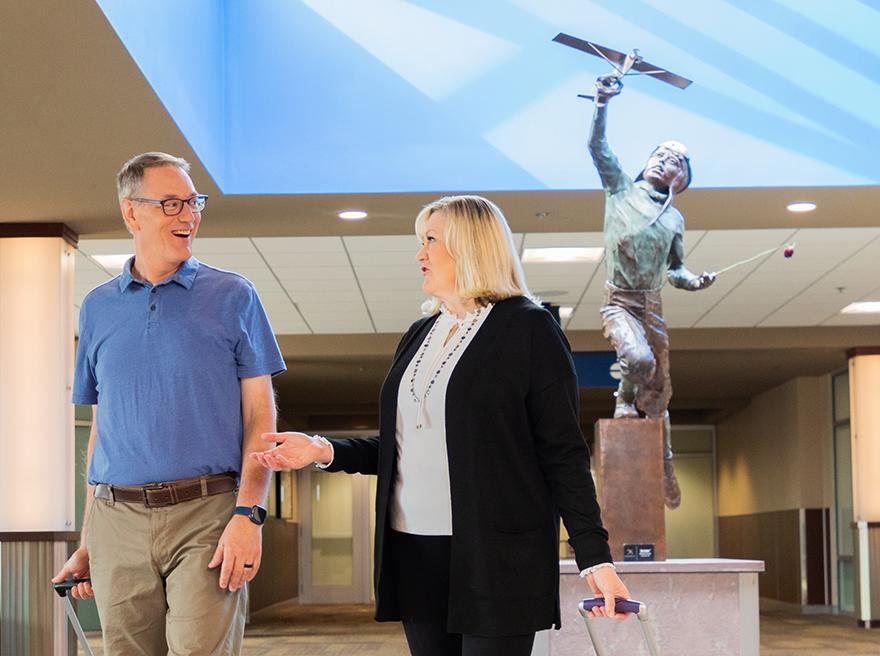 New Direct Flights
More places. More adventures.
There are now more options than ever to go on an adventure just one flight away from Sioux Falls. Whether it's new Allegiant direct flights to Ft. Lauderdale, Fla.; Austin, TX; and Orange County, Calif., or new Frontier direct flights to Orlando, Fla., and Las Vegas, Nev., you're that much closer to your destination at FSD.
Explore Direct Destinations