RFP Architectural Engineering- Passenger Terminal Concourse
Request for Statement of Interest and Qualifications - Passenger Terminal Concourse Development
Proposals Due: 6/29/2023 2:00pm
INTRODUCTION:
SFRAA is seeking proposals from qualified Architectural/ Engineering (A/E) firms for the design and expansion of the existing concourse and a new additional concourse for the passenger terminal building. This SOIQ is for multiple elements of design and construction with defined phases up to the completed build as determined by the SFRAA. The selected firm will also provide assistance with the selection of a Construction Manager at Risk (CMAR) firm and provide construction services during actual construction when determined by SFRAA. While funding for the construction is yet to be determined, firms should have experience with Federal, State, airport bonding and other financing methods.
Due to the potential for significant funding requirements, this design program is being developed to maximize the potential for Federal Funding, possibly including the 2024 Federal fiscal year. Based on this identified need, the preliminary design, selection of a qualified CMAR, design development and issuance of initial bid packages will be conducted on an accelerated timeline. Initial bid packages should be issued during or before May 2024 to allow for the application for Federal discretionary funding.
Interested parties must submit a Statement of Interest and Qualifications ("SOIQ") based on the criteria established in the RFP. SFRAA will evaluate the submissions for content and capabilities and highest ranked firms shall be invited for formal interviews. The selection panel shall rank interviewed firms and recommend the top ranked firm to the full SFRAA for approval. Negotiations of fees will occur after the initial selection. Please note that firms must not include their fees in the SOIQ. Inclusion of fees will result in disqualification.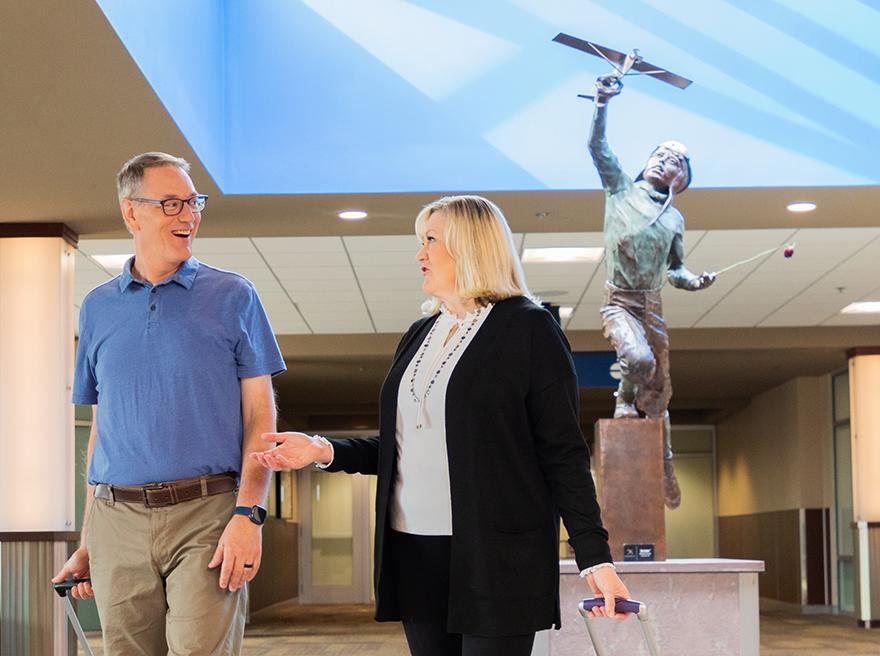 New Direct Flights
More places. More adventures.
There are now more options than ever to go on an adventure just one flight away from Sioux Falls. Whether it's new Allegiant direct flights to Ft. Lauderdale, Fla.; Austin, TX; and Orange County, Calif., or new Frontier direct flights to Orlando, Fla., and Las Vegas, Nev., you're that much closer to your destination at FSD.
Explore Direct Destinations